Operation Kaushalya - Sumitra



This mission was inspired by two outstanding individuals ( Dr. Sumitra Myatra and Mr. Kaushal Cheddha. Hence the mythical name to this mission Kaushalya - Sumitra).
After completing his medical school in Mumbai , India Dr Sumitra instead of following the typical route of starting a private practice decided to follow his father's footsteps , take the route less traversed and went back to his village in Kutch , India to provide service to his village folks. His father ( also a physician) had realised that there is no progress without education and so the school he had built in 1982 in Ratadia a small village in Kutch , Gujarat was taken to the next level by Dr Sumitra. Today he with the help of his wife Harshaben run a school of close to 100-130 orphans/ underprivileged kids providing them with education / shelter/ food and a place to call home . Although the federal grant is only approved for 50 kids, due to the excellent reputation of this school , kids come from far and no one is turned down. The over budget expenses of the school are currently covered by a few benefactors of the school most important being Mr. Kaushal Cheddha (my school mate from Don Bosco , Matunga, India) whose grandfather and then his father were shoulder to shoulder with the Myatra family since the inception of the school in 1982.
After visiting the school in Ratadia, we got to see first hand what an amazing job had been done by Dr Myatra and his wife. We got to sit down with the kids, interact with them, see their boarding facilities and dine with them. Their camaraderie, their respect for each other and their teachers and teamwork while doing group activities like lunch and prayer were quite a site to behold.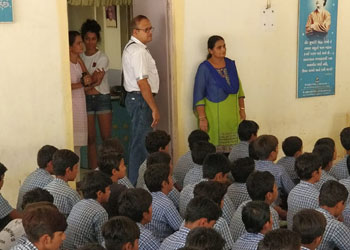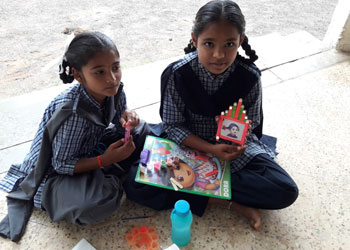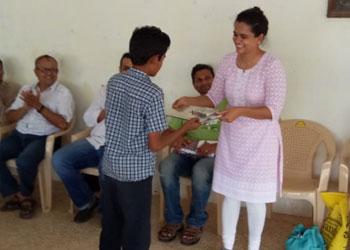 The kids even put up a kabaddi match, a drawing contest and a " Make from waste" competition and frankly we were quite impressed with all their talent and effort. The kids themselves took us around their school and boarding and gave us a first hand experience of their day to day activities.
You can only imagine if 150 kids ages 10-15 are lured into joining this school just because they are assured 3 wholesome meals a day , clothes to wear and a roof over their head what beginnings they come from .The only trade off is they have to study. The graduation rate of the school which was 20 percent in 1982 in its inception year is now upto 90 percent and a few years has been a perfect 100 percent.
At the 30th Anniversary celebration of the school a few years back close to 600-700 alumni turned up, many boasting excellent jobs and careers. It was indeed a proud moment for Dr Myatra.
Kids are kids and all work and no play makes Jack a dull boy... so our first aim was to provide the kids with sports equipment. Accordingly through Operation Kaushalya - Sumitra we were first able to provide the entire school with sports equipment which included cricket kits, chessboards, volleyball apparatus , badminton racquets/ shuttles just to name a few.
Our goal in this mission is to help cover the funds that the school falls short by so no kid goes hungry and every kid has a roof on his head while getting an excellent education. We went over the logistics with Dr.Myatra and Mr. Kaushal and came to the conclusion that the cost of running the school and boarding after exhausting all the government funds was close to 15,000 INR ( 215 $)/ per child/ year . This includes books, food, shelter and school. It also helps to cover cost of unexpected expenses (During the devastating earthquake in Bhuj in 2000 almost the entire school was razed to the ground and was helped resurrect by the Lions Club and BAPS organizations).
The financial goal of our mission is to raise about 10,000$/ year to support close to 45-50 kids / year moving forward....Because our main goal is " Education should be a right and not a privilege".